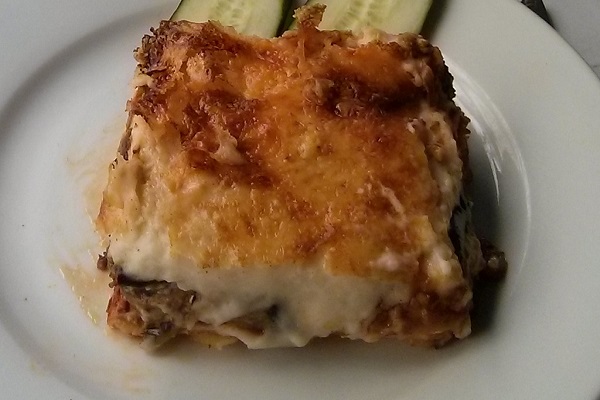 There are some countries that you visit where the gastronomy plays a key role in your travel, even if there are other interesting things too. This is what happens with Greece. You can freak out with Athens, fall in love with Santorini or connect in a especial way with a hidden spot in Naxos, but the thing that you will always remember from Greece will be its gastronomy.
The Greek gastronomy is based on the Mediterranean cuisine and is not known to be especially elaborated. In fact, some dishes can remind you to the typical food you were eating when your grandma was cooking, and this is something that has a high degree of success.
One of the most typical starters is the Greek salad. Besides lettuce, it contains tomatoes, cucumber, Kalamata olives, onion and feta cheese. It is quite simple, but this combination and probably the good quality of the ingredients make this dish one of the most popular ones. Another typical starter is the saganaki (see image below), which is fried cheese, typically kefalotyri cheese. If you are a cheese lover, like us, you cannot miss it. Other thing that you can try as starter is Dolmadakia, which are small wraps made with vine leaves and stuffed with rice or rice and meat (see image below).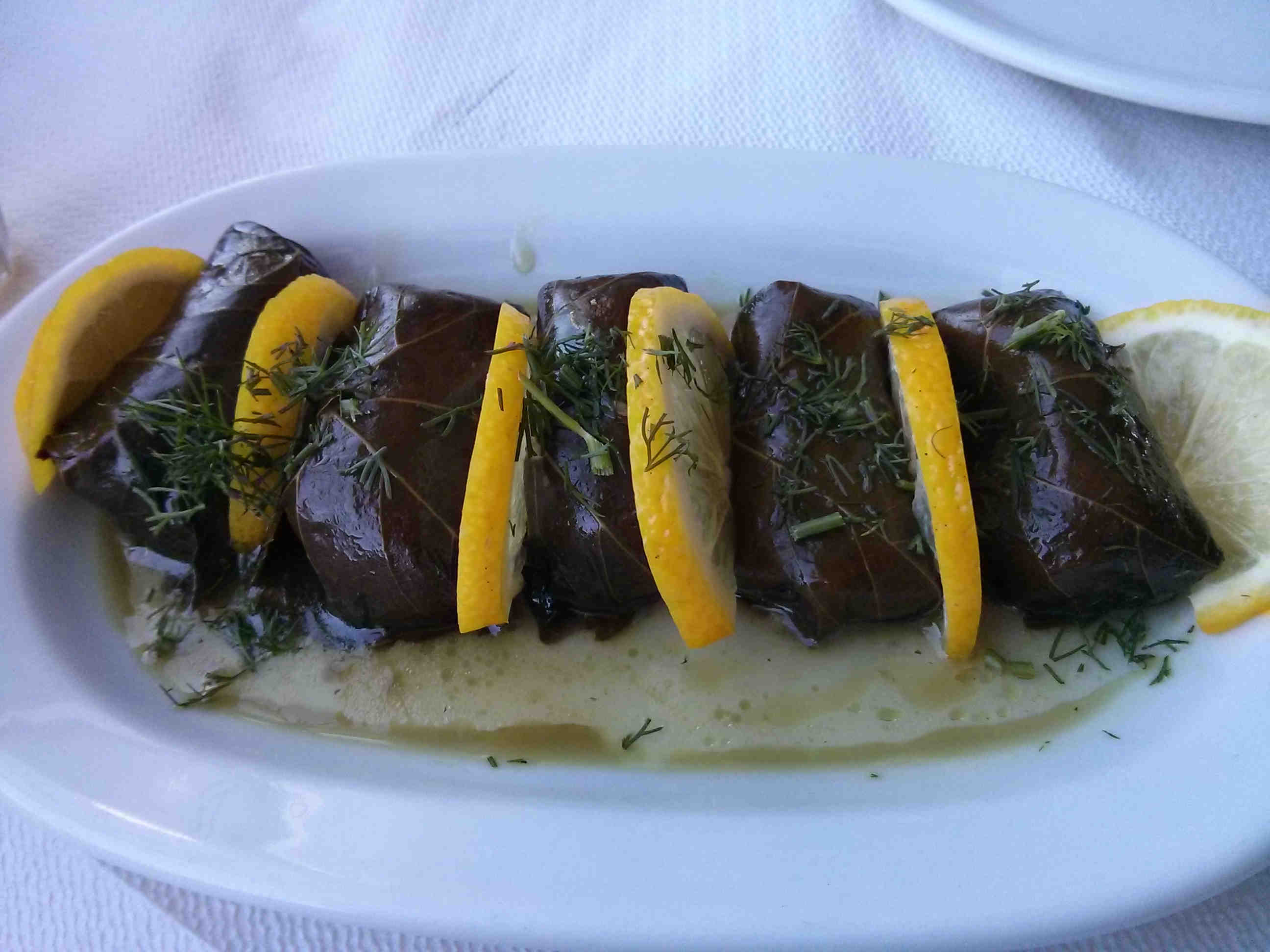 As a main course, probably one of the most famous dishes is moussaka. It is a kind of lasagna stuffed with eggplant (aubergine) and minced meat. You will probably eat it more than once just to check if the first time was just the cook or it is always so delicious.
If you prefer to eat something lighter you can try the souvlaki, consisting of small pieces of meat and sometimes vegetables grilled on a skewer. It is normally served with tzatziki, a traditional sauce made of Greek yogurt, cucumber, dill, garlic, olive oil and vinegar.

The stifado (stew) would be somewhere in the middle between the moussaka and the souvlaki, light-wise. Greek dishes normally contain a lot of meat, but you can also find a good grilled octopus or fresh fish.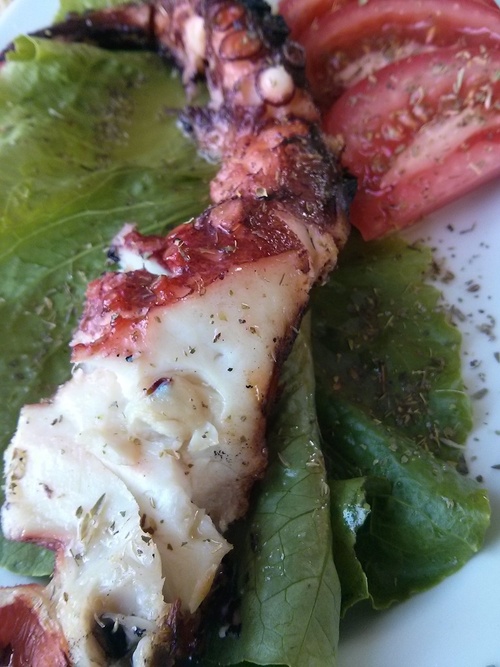 If you want to eat more like a local (and cheaper), you have to taste a gyros. The gyros is meat roasted vertically, like kebab, and sliced before being served. In the touristic areas it is difficult to find gyros served with pita, as the restaurants normally offer it in a plate. However, if you are lucky and you find a good local place, you can enjoy a good pita gyros, filled with fries (!), tomato, lettuce, onions and a lot of tzatziki. Out of Greece it is difficult finding a gyros filled with fries, as the original one.
Talking about desserts we have to mention the famous Greek yogurt (creamy and tasty), the sweet baklava and galaktoboureko. Baklava is a pastry made of layers of filo, filled with chopped nuts or pistachios and sweetened with honey (see image below). The galaktoboureko is not less sweet. It is a semolina custard, also containing filo and a sweet syrup.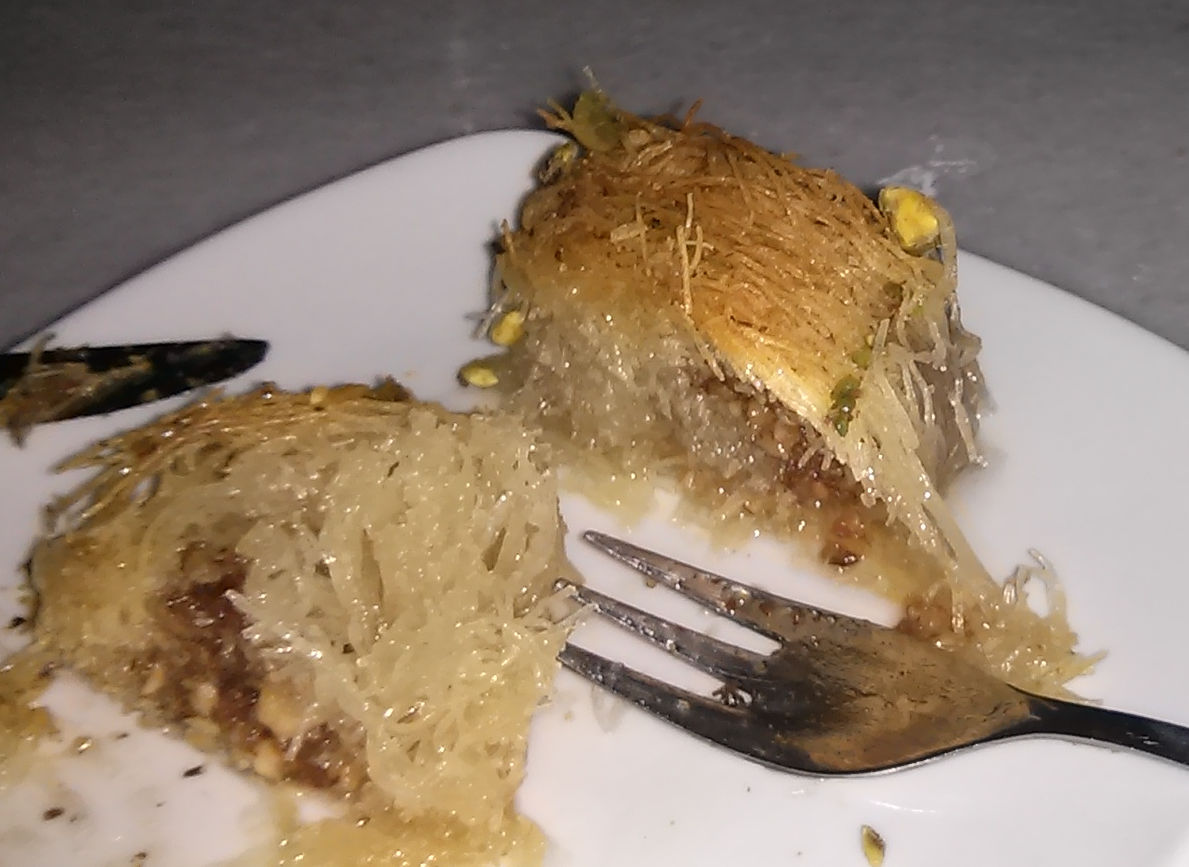 Just to finish like a local you need to try the ouzo. It is a traditional alcoholic drink based on anise which will make your digestion easier. It is quite possible that the waiter offers a shot of this liquor without even ordering it. Take it, it is free of charge!
If you go to Greece and you keep in mind our tips, we hope you come back with the same feeling we have. We fell in love with the Greek cuisine!
Καλη Ορεξη! Enjoy!