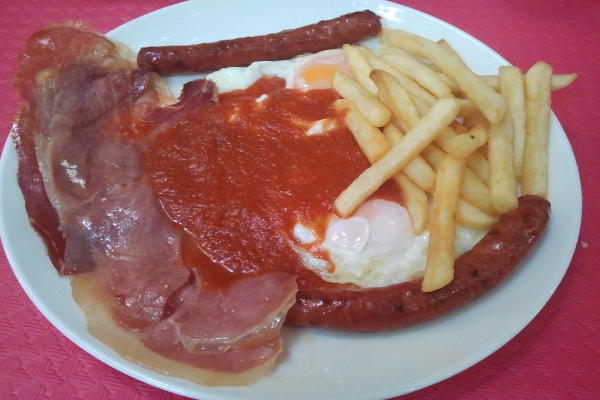 People is getting nervous…San Fermin is already here!! There are more and more people in the streets of Pamplona. Some people come from different places around the world, but there are also people from the city who need to go out and see how Pamplona starts smelling like Sanfermines. In the next lines we will tell you what the most typical dishes and drinks are in those festival days. You should try it all!
List of the best pinchos in Pamplona
Selection of the best pinchos in Pamplona
Everything starts on the 6th of July. The most typical thing is meeting your friends some hours before the chupinazo, which is the rocket launched at 12:00 p.m. to officially open the San Fermin festival. The groups of friends meet around 9h or 10h a.m. in a restaurant, a house or in a place called peña, to have a very serious breakfast called almuercico.
During this breakfast, the most typical dish is fried eggs with serrano ham, txistorra (cured pork sausage), fries and even pork tenderloin. This is incredibly good and will help you to start this awesome day with enough energy. Together with this you normally drink some alcoholic drinks like wine, kalimotxo (red wine with cola), sangria, beer, even champagne...
Once the chupinazo rocket explodes in the sky of Pamplona everything gets red and white and the city becomes an enormous party. If you can take a break from one bar to another, we suggest you go to Sociedad Gastronómica Gazteluleku (San Francisco street, 1) to taste its famous and typical lemon sorbet with cava (Spanish sparkling wine).
Time goes very fast when you are having fun, but be cautious and think about having lunch in order to compensate all the alcohol you are drinking ;) There are several options for this. If you want to continue partying, you can simply buy a sandwich (bocadillo) and some pinchos in any of the multiple bars you can find in the casco viejo (old town). If you prefer something more "quiet", then you can go to a restaurant. However, it is almost mandatory reserving a table beforehand if you don't want to end up eating a sandwich too. In our blog you can find a comprehensive list of menus sorted by price and location, so it is worth taking a look.
Among the typical dishes from Pamplona and Navarre you can find the vegetable stew (menestra), white asparagus (espárragos), lettuce heart from Tudela (cogollicos de Tudela), stuffed piquillo peppers, lamb stew (cordero al chilindrón), steak, trout with ham (see the picture), ajoarriero (cod) and many other things you will find out in any traditional restaurant.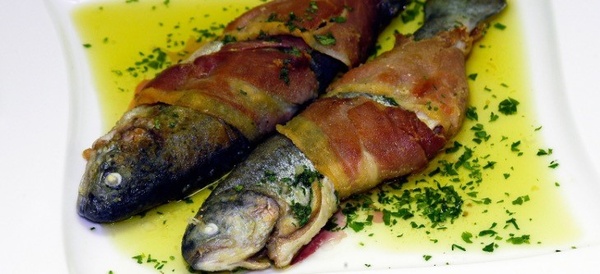 These options are good for dinner too, as Pamplona doesn't sleep during these days and the restaurants will open their doors for a more prolonged time.
If you spent the whole night without sleeping and partying in old town, there is no better way to start the new day than enjoying the typical caldico (consommé) around 6 a.m in front of the city hall. You will find there this chicken consommé that will get you warm and will give you some energy to stay until the running of the bulls.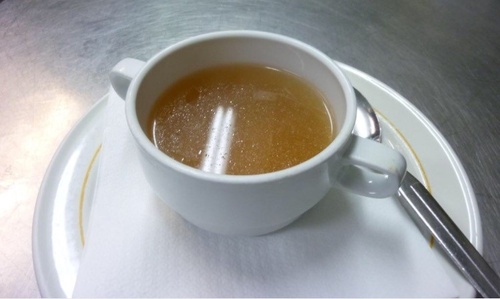 The famous running of the bulls starts at 8 a.m. sharp and it will last just a few minutes. Afterwards, it is a really good time to order some churros (fried-dough pastry) with hot chocolate.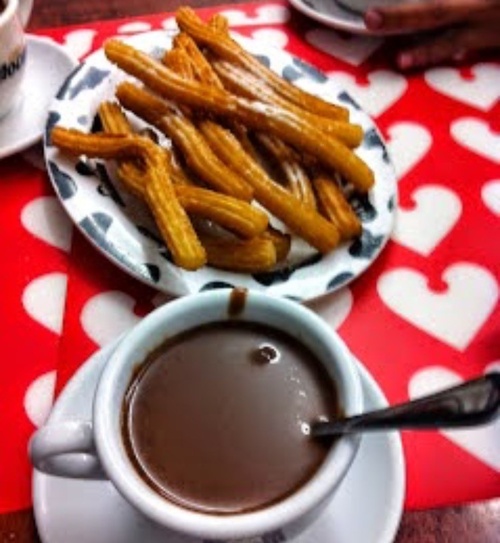 You can taste the most typical churros in La Mañueta, which you can find in the street with the same name, and also in El Churrero de Lerin in the Estafeta street. However, you will also find other places to order churros in Plaza del Castillo and nearby.
After giving a walk with los gigantes and watching several traditional activities during the morning, it is time for the vermut or aperitivo (food and drinks before lunch) with some of the delicious pintxos you can find everywhere.
Some hours later, at 18:30, you can't miss the great atmosphere created in the sunny part of the bullring (plaza de toros). There is a lot of people who don't pay attention to the bulls, but they love the especial ambience created by the peñas. One of the most important moments is when all the people in that part of the bullring take a break and start eating the merienda (snack between lunch and dinner) they brought. The groups of friends belonging to the different peñas sometimes bring really elaborated and exotical dishes and you may see serrano ham with tomato, ajoarriero (cod), bull stew, prawns, beans, etc. Of course, everything is served with wine, kalimotxo, patxaran, champagne… As we said before, a lot people don't go to the plaza (bullring) to see the bulls but to live this especial atmosphere. Don't be surprised if someone comes to you sharing his food, just enjoy it and be thankful!
After the peñas go out from the bullring dancing and singing, around 21:30, it is already dinner time again and we have closed the cycle. This is what a typical day in San Fermin look like and you have 9 days to enjoy everything. San Fermin is not only about drinking, it is the perfect moment to enjoy the gastronomy from Pamplona and Navarre. Try following our advices and you will feel like a local, a real Pamplonica. Enjoty these magical days!
¡Viva San Fermín! ¡Gora San Fermín!