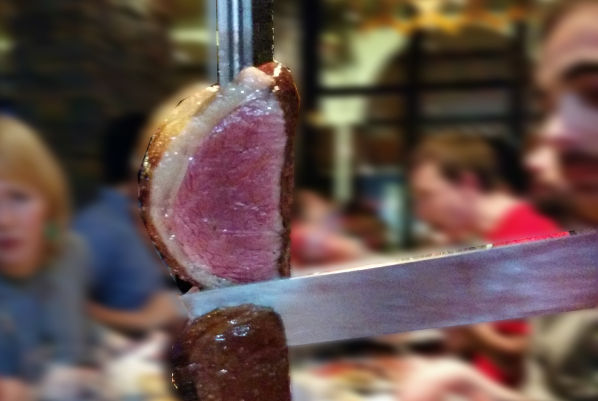 Brazilian gastronomy provides a wealth of diversity of food, but there is something that comes to our minds when we think about Brazil and its food: the meat. Especially in some areas of the country, barbecues are really common and people use to make one at least weekly.
There are some specific meat cuts which you cannot find in butcheries out of Brazil and which are really tasty, like picanha, for instance. Most of us are not so lucky to live in Brazil and taste these amazing meat cuts, but we have something to try to replace this culinary experience in our own countries: the rodizios.
If you just want to go to eat the best Brazilian rodizio, check out our foodie community, where you will find the best meat, reviewed by the bets foodies.
A rodizio is a Brazilian restaurant where you can normally find all these meat cuts which are typical from Brazil. If you have been already in a rodizio, you are probably getting hungry just thinking about it. If you haven´t, we strongly recommend that you find the closest rodizio to your house and book a table right away. But before you go, we are going to give you an idea about what you will find there:  
Out of Brazil, a rodizio is an all-you-can-eat restaurant where you pay a fixed price and you can eat all you can. In fact, the word "rodizio" is used in Brazil as a synonym for "all you can eat", and you can find pizza rodizios, sushi rodizios, etc. However, the original and most famous rodizio is the meat rodizio.


In a rodizio the waiters go from table to table with different meat cuts and they stop close to the customers who indicated that want to continue eating. The customer can opt-out for that specific meat cut or even ask for his prefered one.
 

 
The customer indicates if he wants more meat or not leaving a card or sticker on the table. This card has one colour in each side: green and red. When the customer wants to keep eating he will show the green side, and when he wants to stop, the red side.
 


 

The waiters use a sword or skewer to bring the different meat cuts to the tables and when a customer wants a piece they will cut it with a knife in that moment. The customer then will use tongs to catch the piece the waiter is cutting and avoid it ends up on the table or in the floor.
  


 

Besides the meat, it is common to have a buffet of other kind of food like pasta, fries, salad, fish, vegetables, etc. where you can also eat whatever you want. You have to be really careful with this, because what we want is eating meat and not getting full with all these starters. Our advice is that you avoid eating from this buffet as much as possible, keep your stomach empty for the meat! If you want to eat something we would recommend the fried banana, which is typical from Brazil (and most of its neighbour countries) and it is really tasty.
 



Another trick you will see in the rodizios is that the waiters are bringing cheaper and not so good meat cuts first, and then they will come with the most tasty and expensive ones when the customers are almost full. We also advise you to avoid sausages, chicken and more normal meat, and wait or ask for the best meat cuts. Our recommendations are: cupim, costela, fraldinha, and, especially, picanha.
 


 

In some restaurants at the end of the dinner the waiters come with some pineapple which is really good to make you feel healthier after all the meat ;)
 


In Brazil there are really good "churrascarias" (steakhouses), but if you have the opportunity to visit the country we recommend you Vento Haragano or Fogo de Chao (with branches in the US too). 

We hope these explanations and advice are helpful for you the next time you eat at a rodizio. Don't forget to tell us your experiences here in a comment or also in our Facebook and Twitter accounts ;) Bom apetite!