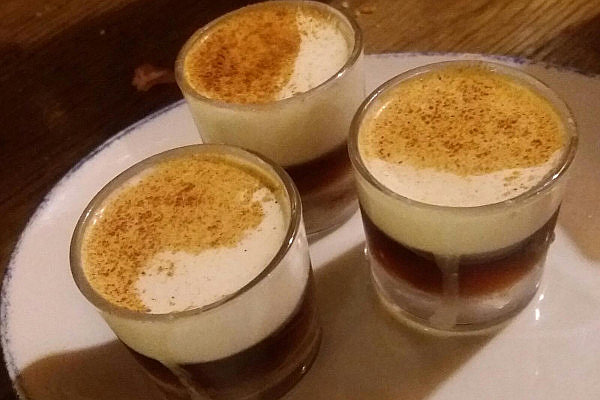 The shots you drank last night is the first thing you remember when you are hangovered with that terrible headache. However, when that friend asked the usual question, "Shots?", it sounded like a great idea. If the question comes together with psychological sentences like "we are not all together since ages..." or "you never go out with me...", then chances are high that the round of shot will happen. The bad part is that it was just the first round, then another friend will follow, then another one, and we all know how this ends...
If you are in the mood of one of these nights, check out this list of the best shots, drinks and cocktails near you!
Each person has a different way of facing a round of shots. We have the kind of person that when listening the word "shots" will run away as fast as possible, going to the restroom, going outside to make a call, etc., etc. Other persons won't be so lucky and they won't be able to escape on time, but they won't be willing to drink that shot. These persons will make the gesture of drinking (without drinking) and will leave that shot at the bar or will throw the content to the floor. Others will drink a sip and will leave the rest at the bar saying they cannot do it. Just the brave people will toast and drink the whole shot, bottoms up, some suffering more than others.
The shot drinks will be different depending on the country, the area, and even the group of friends. Yearly, new drinks are born to be used in those special moments when someone gets excited and invite the others, but there are also some drinks which will never stop being classics. We will show next the most popular shots or "chupitos" (in Spanish) being drunk currently in Spain and that you have to try in your next celebration:
Jägermeister

: For some time now this

herbal German liquor

which contains

35% alcohol

and includes

56 different ingredients

is one of the most popular drinks in the Spanish nights. Spain is the fifth country speaking about consuming this drink and according to its producers

97 shots of Jäger are drunk every second

. As a curiosity, it seems that this drink was used as

anesthetic among the German troops years ago.


Jägerbomb

: It is a variation of the previous one where

a Jäger shot is introduced in a glass containing an energetic drink

, usually Red Bull. When the time of drinking it comes, the Jäger will mix with the energetic drink and will produce that

taste "bomb".


ThunderBitch

: This drink entered in the Spanish market in 2016 and it is still unknown for lots of people. It contains

30% alcohol

and it is a

mix of the Canadian whiskey Old Thunder Bay with cinnamon and chili. That slightly spicy cinnamon flavour is the most attractive and exotic thing this drink offers.
 
 

Fireball

: It is another drink really similar to ThunderBitch which is also being successful in Spain. Same flavour:

whiskey mixed with cinnamon and chili.


Strawberry tequila

: Detractors of tequila will be happy with this drink because it is a good alternative when someone propose to drink tequila shots. Strawberry tequila (also known as

petit-suisse

in some Spanish provinces) is getting more attention in the Spanish night clubs. It just contains

17% alcohol

and it has a

strawberry flavour that hides the tequila base.


Flavoured Vodka

: Flavoured vodkas started to be popular years ago in Spain, but it is still a common option for shots. They contain around

20% alcohol

and the most popular is without doubts the

black vodka

, made of wild berries and which

gives the same colour to your tongue

. But there are other flavours which are also popular in the Spanish nightclubs and bars, like the

red or caramel vodkas. As a curiosity, the red vodka (at least the one that Eristoff produces), is made of sloe berries, which are also used to produce a popular Spanish drink called pacharan/patxaran.


Tequila

: Possibly, the most popular drink when we order shots in Spain. No explanations needed for this

Mexican drink

with around

40% alcohol,

because it is a classic which

does not go out of fashion

. Besides that, the way it is normally drank, with salt and lemon, gives an exotic touch to this drink.

Do you know how to drink it?

Really, if the tequila is good enough

no salt nor lemon should be used

, but tequila served in bars and nightclubs is not normally so good. The bravest people will drink the tequila neat (without salt or lemon), but the ritual is

licking the salt, drinking the tequila and suck the lemon/lime.
 
 

Absinthe

: This drink has its

origins in France and Switzerland

, contains

more than 65% alcohol

and is made of

Artemisia absinthium, fennel and anise

. It is not really common ordering this in Spanish bars and nightclubs, but there are still some brave drinkers who do it. Its commercialization is forbidden in some countries and there is an absinthe (

Gold Label Hapsburg Absinthe

) with almost 90% alcohol. Just for the wildest nightlife lovers.
 
 

Classic shots

: There are some shots which will never go out of fashion. In this section we have drinks like

whiskey

,

rum

,

anise

,

herbal liquors

,

coffee liquor

,

orujo

and

aguardiente

,

pacharan

/

patxaran

,

piñato

(pineapple liquor),

peché (peach whiskey), etc, etc. The former ones are classical for light shots...
 
 

Classic shots (mixed)

: We also have the classical but mixed shots like

sol y sombra

(coñac and anise),

cerebrito

(vodka and baileys),

cucaracha

(tequila and coffee liquor, flaming shot),

cua cua

(cointreau and licor 43, flaming shot),

coscorrón

or

machacado

(gin or vodka mixed with a sparkling soft drink, hand palm on top of the shot, hit the bar with the shot and drink), etc, etc.
Do you miss any shots here? Maybe do you name it in another way? Don´t be shy and share your experiences when you went to Spain and had some fun with shots! ;)