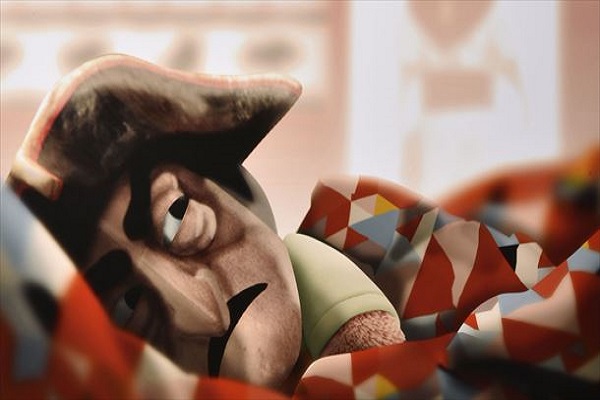 In a few days one of the best festivals in the world will begin: San Fermin (or Sanfermines). This amazing Spanish festival is celebrated in Pamplona (Navarre). The people living in Pamplona are already getting nervous. They are probably busy preparing the typical white trousers, the red handkerchief and organizing different gastronomic events with their friends. Some people coming from abroad don't worry too much about preparations. They will just add a red handkerchief to their normal outfit and they will eat a sandwich somewhere. However, there is still a good number of people looking for good restaurants to enjoy the festival in a gastronomic way too.

We know you are the kind of person who enjoys eating a good dish, so we have prepared a list of menus available during San Fermin. This will save you some time and it will avoid you surf the entire internet or walk all the streets of Pamplona in order to find the best menu. Not all the restaurants offer a San Fermin menu and not all of them are available online. That's why we can't give you the entire list of menus, but you will have more than enough to make a good decision. Check out the following link to find all menus:
San Fermin Menus and Best Food
You will see that we write strange numbers like 4/4/4. This means that in that menu you can choose among four starters, four main dishes and four desserts. If you see 4s/4/4, it means that the starters are shared, and if you see 4/4/-, it means that the desserts are not specified. All the prices have the taxes included (they had it or we added it for you). We hope this helps you finding the ideal menu for you ;)
If this list has helped you, don't forget to leave a comment in our Facebook page or to tell us in our Twitter account.
Enjoty your meal! Enjoty San Fermin!!
Old town
20€ 6c/10/9 (Wine not included) Dinner menu Catachu
22€ 6/6/- (1/2 bottle of wine) El Marrano
24.90€ 6c-5/13/9 (Wine not included) Lunch menu Catachu
25€ 11/14/- (Drinks included) El chupinazo
27€ 6/7/6/ (Crianza Red Wine) Lunch menu Café Niza
27,50€ 3c/10/4 (Crianza Red Wine) Bar Restaurante NireEtxea
28€ 3c/1/8/- (D.O. wine) El patio de las comedias
28.80€-32.80€ 7/9/- (Drinks included) Asador Aralar
30€ 5/6/1 (Wine included) Qwerty
30€-40€ (You can choose when doing the reservation) Restaurante El Colmado
32€ 5/5/4 (1/2 bottle of wine) Txirrintxa.
33€ 1/3c/6/4 (Inurrieta winery) Zentral
35€ 8/8/5 (½ bottle of Principe de Viana wine) La Mandarra de La Ramos
35€ 7/7/7 (No drinks included) El Tinglado
38€ Tasting menu (Wine not included) Baserriberri Bar Restaurante
38€ 4c/7/6 (Cider included) Chez Belagua
40€ 3c/6/3 (Wine included) Cocotte
40-42€ 2/2c/2/1 (Wine included) Restaurante Anttonenea
45€ 9/10/10 (1/2 bottle of wine included) (Only dinner) Casa Otano
45€ Closed menu (Wine included) Restaurante San Fermín
45€ 1/3c/5/- (Drinks included) Iruñazarra
49€ 4c/5/3 (No drinks included) Hotel Tres Reyes Menu for the 7th of July
49€ 8/9/4 (No drinks included) Hotel Tres Reyes Menu for the rest of San Fermín (6th to 14th of July, except the 7th)
50€ (Wine not included) Taste Menu Palacio Guendulain
Iturrama
26€ 5/5/4 (Cup of wine included) La Piedra
30€-35€ 4 menus to choose (Soda included) Tandoori
Ensanche
25€ 30 € 9/10/- (Crianza wine) Restaurante Don Pelayo
25€ 15/12/11 (House wine) Restaurante Síbaris
25€ 6/6/6 (Drinks not included) Lunch menu BAHIA Food Club
28€ 3c/7/3 (No drinks included) La Jaula del Cuatro y Medio
28,60 € 17/19/13 (D.O. Wine) Deboca
29,70€ 9/9/10 (Wine included) Gastrobar Moka
34€ 6c/6/- (Wine included) Argileku (From 10th to 14th of July only)
38€ 3c/1/10/8 (Drinks not included) Venta de Urriza
35-37,5€ 1/2/9/3 (Wine and coffee included) Restaurante El Colegio
40€ 4c/4/2 (Iñurrieta wine included) Dinner menu El mercado
44€ 6c/6/- (Wine included) Argileku
45€ Closed menu (Wine included) Argileku
45€ 4c/1+1/- (Iñurrieta wine included) Lunch menu El Mercado
46€ 7/9/7 (Crianza wine) Restaurante El Burladero
Rochapea/Chantrea/Ansoain
25€ 9/14/9 (Drinks included) Restaurante Larraisko
27,90€ 5c/16/7 (Crianza wine) Restaurante Uslaer
45€ 4c/1/8/1 (Crianza wine) Asador Olave
Soto de Lezkairu
20€ 9/9/5 (Crianza wine) Bidezkairu
Ripagaina
19€ 4/4/4 (Drinks not included) Ripa A3
20€ 8/8/5 (Crianza wine) Zarzaparrilla
Sarriguren
22€ 3c/8/7 (Drinks included) Bar Restaurante Haran
Burlada
33€ 3c/1/10/- (Crianza wine) Hotel Casa Jacinto
??€ 5/5/- (House Wine included) Bar Sidney
Outskirts
20€ 5/7/4 (Drinks included) Gastro Okei Errialde (Villava)
30€ 5/8/4 (Crianza wine included) Hotel Don Carlos (Huarte)
32€ 3/8/- (Drinks not included) Asador Maya (Esquíroz)
36€ 5/5/8/4 (Crianza wine included) Hotel Don Carlos (Huarte)
36.3€ 1/2/2 (Wine included) Restaurante Asador Ezcabarte (Oricain)
48€ 1/2/4/2 (Iñurrieta wine included) Restaurante Castillo de Gorraiz (Gorraiz)
60€ Closed menu (Chardonnay wine included) Restaurante Mixtura (Huarte)