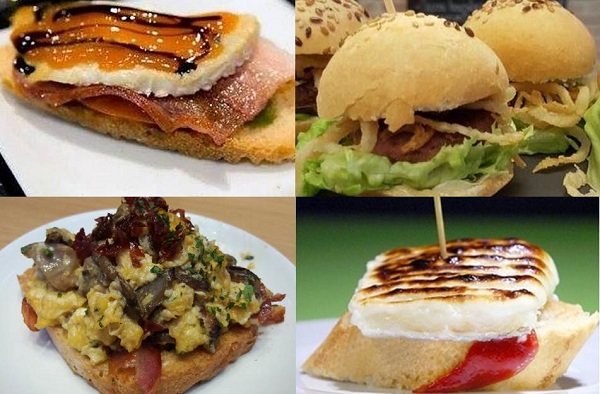 The traditional "tapeo" in Pamplona is a form of culture to enjoy in a good company while you taste the "pinchos" ("pintxos" in the local language; "tapas" as they are well known worldwide) that different bars are used to offer. These tapas have been prepared with special care by the different chefs in each establishment.
There are many zones of "pinchos", but perhaps the most famous area belongs to the old part of the city. In this entire area you will find bars and restaurants where you can enjoy of its tradition.
List of the best pinchos in Pamplona
Selection of the best pinchos in Pamplona
Each group of friends usually has its own route with its favorite bars and pinchos. We present you the most famous "Pamplonica" route for this specific article: Street Running of the Bulls. During "San Fermin" festivals, Bulls crossed from Santo Domingo hill to the bullring. We will do the same but in a different way. We visited each establishment on the route tasting a bit of its gastronomy.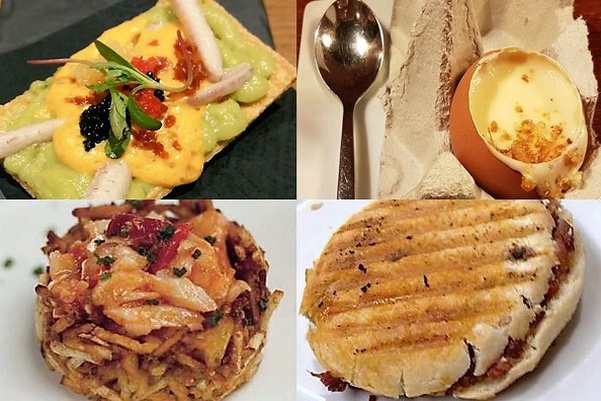 We've made the tour asking in each local which is the "Star tapa" (most sold) and what else they would recommend us to try. The result of this experience has added into us a few extra pounds and the following list we encourage you to try:
El Vallado: The speciality of the house is fried brie cheese with tomato jam. They also recommended us baby squid grilled with parmesan.
El Mentidero: Its famous tapa is zucchini, cheese and caramelized onion. Their recommendation: "fake scallop" which consists into a puff pastry, cream of seafood, béchamel sauce and grated cheese.
Iruñazarra: Favorite of the season: "Iruñanguilazarra", basically based on eel and quinoa properly mixed to achieve the winner of the "Pincho de Navarra 2016" contest. As a recommendation they suggested to try mini burgers.
La cocina de Alex Múgica: People request for sure egg with mushrooms, foie and potato foam. The one we should try and highly recommended is called "our basted chicken".
Mesón Pirineo: Best-selling pincho is mushroom croquette. They recommended us to try quail egg, txistorra and pepper.
Chez Belagua: Its famous tapa is cod with alioli (garlic mayonnaise). Their recommendation: T-bone steak pincho.
Zanpa: its star pincho is fried Idiazabal cheese. Anchovy with peppers and onion's vinaigrette was their suggestion.
Cervecería Estafeta: most customers ask for their famous pepper ball. They recommended us to try pepper and gulas pincho.
Don Hilarión: The winner is Iberian ham, pate, goat cheese and caramelized onion. The one we should try is "potato nest". During our visit, it was stuffed with ajoarriero (cod in oil and red peppers) but its interior could be filled with different options.
Bodegón Sarria: The classic and famous is the "rubble" (5J Iberian ham shavings, chorizo ​​and cured pork loin). Recommended tapa is artichoke stuffed with ham and cheese with piquillo peppers sauce.
Chez Evaristo: The most requested is zucchini with ham and cheese tapa. The one they recommended is pepper ball.
Fitero: Classic bar of Pamplona. Its star is "Filomena" (sole, garlic sprouts and béchamel sauce). Two tapas recommended: Iberian pork shoulder, foie and beltza mushroom, & cod confit, black garlic alioli and crispy algae.
La Granja: The tapa that triumphs is artichoke, bacon and cheese. Their suggestion millefeuilles filled with txangurro (spider crab).
Cocotte: Txangurro grilled (spider crab) with alioli (garlic mayonnaise) or mini burgers are the most requested pinchos. They recommended us to try salmon with tomato, egg and shrimp.
Juanito: pigs' cheeks or ham toast alioli (garlic mayonnaise) with a usually ordered very often. Recommendations squid's tapa and "gilda" which consists into a Pickle combining olive and chilli, with a preserved fish, usually anchovy).
El Chupinazo: Ham toast is the famous one. They recommended us to try the "marmitataki's pincho" (based on tuna&potatoes).
Txirrintxa: There is not a fixed winner here, people usually ask for scrambled mushroom and ham. Recommendation: Octopus and potato's tapa.
All these places offer an extended assortment of exquisite and succulent bar snacks. We've just approached to you the most sold and a recommendation of each bar. We invite you to do this same route and try the different options that exist. Do not forget to tell us which ones you liked the most. Deal? ;-)